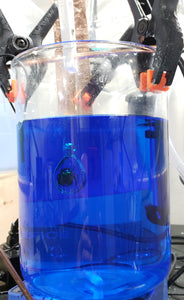 This video walks you through how to make the formula that I use now, If you have ever run across my youtube videos you would know I shared a formula for electroforming solution many years ago.   I have learned much since then and now have a formula that is more versatile.  It works great for jewelry and organics.    The formula is been Hull cell tested many times. Very easy to make for new people just starting out Included at the end of this video is a  list of everything you need to buy and links so make sure you use the google shortcut at the end of the video.
  Please make sure you can purchase Sulfuric Acid(Battery Acid), Hydrochloric acid Acid 37%,Polyethylene glycol (Laxative), Copper Sulphate in your country before purchase.
For the difference between the solutions here is a video  https://youtu.be/iJ_Rpl8VF30
PLEASE USE AN EMAIL ADDRESS AT TIME OF PURCHASE SO SHOPIFY CAN SEND YOU FILE.