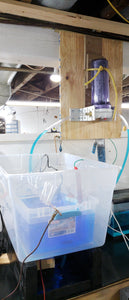 This Product is a video tutorial on how to build an Electroforming tank that will handle many different-sized projects. It has a built-in carbon filter that allows you to explore electroforming organics with no fear of contaminants.   This is an advanced setup but will pay for itself if constructed.   This video has a link at the end with the shopping list so you can order most of the products you need online.
The link at the end of the video is case sensitive
PLEASE USE AN EMAIL ADDRESS AT TIME OF PURCHASE SO SHOPIFY CAN SEND YOU FILE.